Just before I start my monologue, I would like to thank Charlotte from Gamercast for publishing my interview on their website. It's been long that I updated my blog. After "A Sirius Game', my temptation to go back to 2D game development has been back. Now when I compare the time, cost and energy spent making 2D game to a 3D game, the former is much better from an indie's perspective. And with the release of RPGMaker Vx Ace, there is some hope of reviving a bit of freshness in the old school RPG world.
This time I thought of dabbling a bit in Photoshop by myself so that I can cut the cost of art in development. More than cost, I would say time and quality. When all of your artwork is outsourced, it is difficult to keep track of submission deadlines by artists and the quality suffers a lot. Since I am not a pro artist or anything, I chose simple anime style art which is easy to create and cute to look at. So far, here is an example sprite I made two weeks back-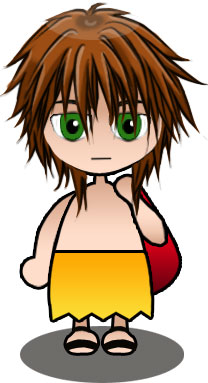 Compared to last year, this year I am more at peace of mind and in keeping with my objectives. But in spite of everything, I am introspecting a lot for the last 2-3 months. So far I have developed both 2D and 3D games for PC only, not for any other platform. My knowledge has become stagnant, a by-product of working alone most of the time. I want to learn development on newer platforms and newer engines, get newer challenges. My niche genre of old school rpgs are a safe bet for business purpose, but I want to grow out of my comfort zone. Honestly, I am bored.
My social life has become nil and self-teaching ever evolving new technologies in gaming seems tiring and boring. The problem with learning  a new game engine is during that time I cannot make newer games, which means business is slow. For a self sustaining indie, this is not a feasible option. I can still keep making RPGmaker games as I already have a website dedicated for it, but it is not satisfying me intellectually anymore. It is been long that I stood up to a challenge or pushed my creativity to an extreme. I need a change desperately. I had been playing around with Game Maker and Unity 3D for sometime now and GameMaker seems to be a good alternative for simple 2D games. I don't know what I should be doing now. Should I carry on making RPG maker game and it will sustain my business easily? Or should I leave my safe zone of RPGmaker games and do a different genre of 2D game this time? Or should I focus more on learning Unity 3D so that I can explore android and iOS market? Or should I take up a day job so that I can learn and earn at the same time? I am procrastinating, unable to make up my mind…

One Comment to